If your business model supports conducting business in Latin America, it is clear that Brazil is the place to be. In the beginning of April, Brazil moved past the United Kingdom and France to take the 5th spot on the list of the World's Largest Economies. This is a major milestone for a country that has been fueled by Foreign Direct Investment (FDI), equally strong trading partners and many other factors. The chart below (
Source: CEIC Data
) is an incredible graphic representation of Brazil's trade relationship with China over the past decade.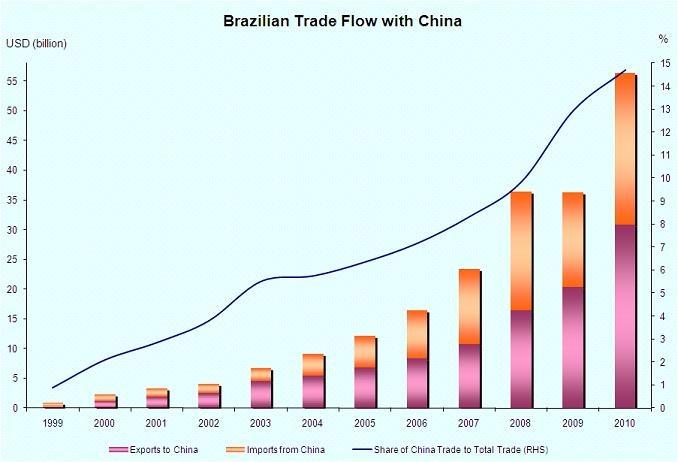 China has been a model for growth and success, and it is apparent through their trading patterns that Brazil has been able to stay alongside China, while it climbs the World economic charts. Aside from being aided by its partnership with China, Brazil is a global leader in manufacturing and agriculture. Soybeans, crude oil and iron ore are among Brazil's leading exports. Another major contributing factor to Brazil's continued success is the awarding of the 2016 Olympic Games and the 2014 World Cup. These two major sporting events will bring along with them a plethora of renovation and development. Infrastructure and sporting facilities will continue to be overhauled to accommodate these monumental sporting events.
At this point, there is no pioneer advantage for venturing into Brazil. It is no easy task to develop business in Brazil, because the bureaucracy is complex, the infrastructure is continuing to develop, it is cramped and there are many foreign customs. Business ventures require strategy and planning. They require you to be as prepared as possible.
Brazil has the largest Portuguese speaking population in the world, and it is vital to be prepared to communicate in Brazilian Portuguese if you are attempting to penetrate the Brazilian market. The process of translating your company materials to communicate in Brazilian Portuguese can position you way ahead of your competitors, because your materials can then be absorbed and applied significantly faster when presented in market's native language. Even in the instance that your partner has employees speaking perfect English, Portuguese documents can go many miles farther, exposure-wise. After all, you do not get a second chance at your first impression. At the very least, you want to leave a positive impression ahead of your competitors by delivering the most straightforward and readable messages.